Victor Osimhen: When will his time come?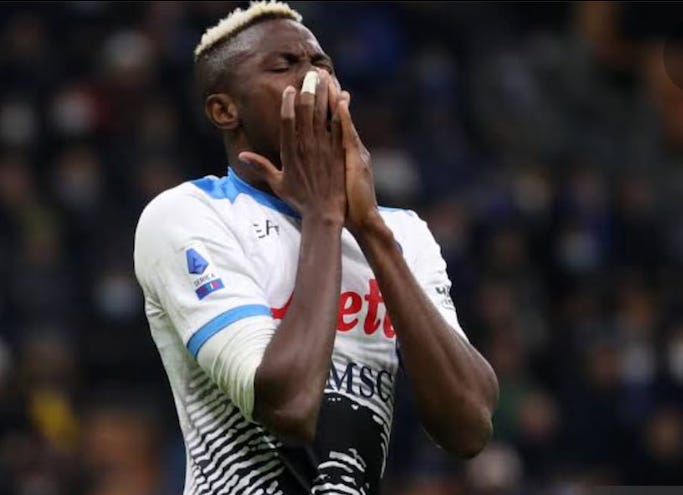 During the last edition of the CAN in Egypt, he was unhappy with the lack of playing time because he had been told to bide his time. With his current form, no coach would have deprived Victor Osimhen of a place in the first team of the Super Eagles group in the biennial competition scheduled for Cameroon; but that was not the case after the striker was excluded from the squad for the Central African country following cheekbone surgery
Speaking on a YouTube channel, former Manchester United striker Victor Ighalo said: "I am very happy and proud of Victor, I communicate with him every time, I continue to encourage him that he is doing well so well, he should continue being humble, keep working harder.
"He hasn't accomplished anything yet because I know that in two or three years this guy will play in the Premier League and be the top scorer because I can see his hunger.
"Even when we were at CAN (Egypt 2019), he was a little frustrated not to play, he is not happy.
"I told him Victor, your time will come, I told him I'm leaving, you are the one who will take back that number 9 jersey if you believe in yourself and work hard, I can see your potential and I am so happy and happy he's doing this. "
Faithful to Ighalo's prediction, Osimhen inherited the number 9 jersey, but his dream of appearing at CAN 2022 is now a mirage after his operation which excluded him for three months.
Super Eagles forward Osimhen suffered an injury in Napoli's clash with Inter Milan, which is expected to rule him out of next year's Africa Cup of Nations.
Nigeria suffered a heavy blow ahead of CAN after star Osimhen was confirmed to miss the tournament in January.
Osimhen was injured twice in Napoli's Serie A meeting against Inter Milan last Sunday at the San Siro stadium.
The 22-year-old's collision with Inter Milan defender Skriniar left him with a swollen eye and cheekbone. Post-game tests revealed that Osimhen suffered from an orbital fracture and had also broken his cheekbone, with Napoli confirming he would need surgery.
The former Lille star took place on Tuesday morning, and it was successful. However, Napoli issued a statement that they would miss three months of action, effectively excluding them from CAN.
The Napoli declaration said: Victor Osimhen was operated on this morning by Prof. Tartaro, assisted by Dr. Mario Santagata and in the presence of Dr. Canonical, for an operation to reduce and contain multi-fragmentary and displaced fractures of the malar bone , the zygomatic arch and pommel, the floor and lateral wall of the orbit, and the diastasis of the fronto-zygomatic suture.
The synthesis of the bone abutments was performed with titanium plates and screws.
The player is fine and will remain under observation for a few days.
The prognosis is estimated at around 90 days.
The news was a blow to the Super Eagles, whose hopes of winning a fourth continental title rest on the shoulders of the former Lille star.
Osimhen has been Nigeria's leader since 2019. The 22-year-old has scored 10 goals in just 19 appearances for the three-time African champion.
National team assistant coach Joseph Yobo said Osimhen's loss to injury was a blow to the Super Eagles' aspirations for the 2021 Africa Cup of Nations.
Discussing what Osimhen's absence means for Gernot Rohr's side at the biennial African football competition, the country's assistant coach expressed his sadness over the development – given the impact of the striker in the team of triple African champions.
"It's shocking to hear that such an integral part of the national team will miss the 2021 Africa Cup of Nations," Yobo told Goal.
"He's a great player, but his health is more important. It's a big blow for the national team.
"Osimhen is a young boy who has a lot of potential and who continues to develop. I had a conversation with him recently and reminded him of how great he can be. I wish him a speedy recovery.
"His talent is immeasurable, his presence, his energy and what he brings to the team is a no. 9 is scary, "he continued.
"Even when he's not playing well, having someone like him on the pitch makes the team better with his energy. He gives everything on the pitch.
"In our last match against Cape Verde, he was everywhere. So every manager would want a player like Osimhen on their team.
"Honestly, it's so sad that the most fit Nigerian player at the moment is undoubtedly injured and absent from CAN. It's a big blow for the national team, it's a big blow for his club and a big blow for football fans.
Football fans took to social media to express pessimism about Nigeria's chances of having a fourth African tiara in Cameroon.
Even that, the former Everton and Fenerbahce defender remains optimistic that other players could step in and seize the opportunity offered by Osimhen's injury.
"I can feel how bad the fans feel because Osimhen is a focal point for the national team going forward," Yobo added.
"There are key positions you need to be successful, and a number 9 and a goalscorer are one of them.
"However, when you look at it from another perspective, Nigeria are lucky to have so many players, but there are none like Osimhen."
The Nigerian striker left a strong impression on the specialist who operated on injuries to the cheekbones and eye sockets he sustained over the weekend.
Italian surgeon Gianpaolo Tartaro has revealed his admiration for Osimhen after meeting the Napoli striker during surgery to correct the multiple fractures the youngster suffered in the face on Sunday.
Tartaro, a plastic and aesthetic surgeon, led the team of specialists who successfully operated in Osimhen on Monday.
The Italian doctor admitted to finding a "special boy" in Osimhen.
Tartaro revealed that he told Osimhen that while the operation on the Nigerian striker was an unusual procedure, it was a success. The Italian professor is convinced that Osimhen is healthy enough to continue and win the league title.
"I also told Victor, a special boy, that it was not a normal operation," Tartaro told Corriere dello Sport, according to TuttoNapoli.
"But it's done and now I'm asking him to go and win the Scudetto."
Professor Tartaro has confirmed that it will be difficult for the Super Eagles star to compete in the continental championship as he will not be training for at least two months.
Tartaro added: "Real contact training (Osimhen) won't be able to do it for eight to nine weeks.
"It is impossible to think that he will go to the Africa Cup: his body and his face came out of it deformed by the impact."
Osimhen is Napoli's top scorer this season, with nine goals in 13 Italian Serie A and Europa League appearances combined.
The former Lille ace also topped the scoring charts for Nigeria in the World Cup qualifying campaign with austere strikes.
Meanwhile, Tartaro has denied being forced by Napoli president Aurelio De Laurentiis to state a 90-day prognosis in order to prevent Osimhen from representing Nigeria at the 2021 Africa Cup of Nations.
Before the operation, medical experts, including Tartaro, had suggested that Osimhen would resume full training by mid-December, a few weeks before he showed up to a training camp with the Nigerian team. before the CAN.
Tartaro denied that a circulating WhatsApp audio in which the person's voice is heard posing as the specialist was not from him.
In the alleged fake audio, the person claiming to be Tartaro revealed that Naples chief Laurentiis had specifically requested that Osimhen be banned for 90 days.
"So now we'll say he's out for 90 days. Surely he can play the first game in January with the mask on, it won't be easy."
Responding to the voice audio, Tartaro was quoted by FanPage: "I don't know how to say it's not me. In this audio some things are said to be extremely precise, some things are wrong. I am a surgeon, I find that absurd. This is sheer madness.
"In the operating room, there was a lot of people coming and going and at the end of the operation, I talked about technical things. I'm so sorry "I repeat, it's not me. I'm not interested in saying that, I would just be a loser.